Post by Kao on Feb 5, 2020 15:36:11 GMT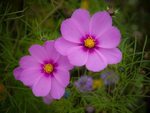 In spite of it being really sad, I'd still recommend it whole-heartedly. I think I had more trouble with it than most would because, like Edward, I also lost my older brother. There were passages about dealing with that loss that were particularly hard to get through. I identified with it so much, even if the way my brother died was very different from how Jordan dies in the book.

I took a nice u-turn and am now reading My Sister the Serial Killer by Oyinkan Braithwaite.
Korede's sister Ayoola is many things: the favorite child, the beautiful one, possibly sociopathic. And now Ayoola's third boyfriend in a row is dead, stabbed through the heart with Ayoola's knife. Korede's practicality is the sisters' saving grace. She knows the best solutions for cleaning blood (bleach, bleach, and more bleach), the best way to move a body (wrap it in sheets like a mummy), and she keeps Ayoola from posting pictures to Instagram when she should be mourning her "missing" boyfriend. Not that she gets any credit.

Korede has long been in love with a kind, handsome doctor at the hospital where she works. She dreams of the day when he will realize that she's exactly what he needs. But when he asks Korede for Ayoola's phone number, she must reckon with what her sister has become and how far she's willing to go to protect her.

In spite of the description it's (so far) not dark and overly-serious. I love this quote about the book: "Satire meets slasher in this short, darkly funny hand grenade of a novel about a Nigerian woman whose younger sister has a very inconvenient habit of killing her boyfriends. 'Femi makes three, you know. Three and they label you a serial killer.'"


I read that last year and while I liked it overall very much I loathed the sister and hated the ending. Your mileage may vary though.