Post by MissGriss on Jan 19, 2020 2:51:59 GMT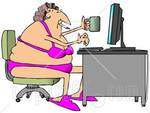 Nancy... really??? You thought his dress was beautiful? Sergio's outfit was unflattering, unattractive, and failed to tell the story of those children who died, IMO. I think Sergio is a tad egotistical, and I don't get his fashion.
I actually preferred some of the safe designers more than the top designers this week... especially Marquis and Brittany. Victoria's look was OK.... but I don't see why it was on the top. Good for Chelsey!
His fashion isn't political, he just keeps saying it is. He's mentioned it before, I tune him out
so I'm not sure, but I think he's had other topics his fashions were supposed to stand for.

I really don't remember because I quit listening to him that much. I usually quit listening every time he brings up a cause.
Agreed! I've never seen him actually use the art of fashion to make a political statement, but I have heard him talk about how politics affect his fashion. I think he made a big speech about not using anything plastic for the unconventional materials challenge because of the damage plastics are doing to the environment. And he's said a few other things about his principles when it comes to what materials he'll use. But he's so self-righteous when he says stuff that I find myself rolling my eyes even if I might normally agree with him.
Mostly, I've just seen him create butt-ugly stuff that I wouldn't be caught dead in and that he thinks is amazing. Trust me, Sergio! It's not! A really good designer could have created an amazing statement piece about the immigration experience that was also a piece of wearable art. And it would have involved way more than just embroidering names on a tacky dress. I'm not even a designer, and I have some better ideas than that! Make a cool, well-cut outfit with graffiti that says "Go back to where you came from!" or some other important message. (See Christian Seriano's outfit for Jennifer Nettles at the Country Music Awards.*) Or make a dress that evokes cages! There are a million good ideas, and Sergio's wasn't one of them.
*
meaww.com/cma-awards-2019-jennifer-nettles-red-carpet-outfit-statement-play-me