Post by Critical on Mar 16, 2020 21:55:21 GMT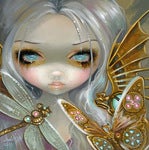 Every time Negan got close to Alpha as they were walking to the cabin, I kept saying "Now, do it NOW!" Negan didn't disappoint - but when did he and Carol hatch this plan?? Carol's smile as Negan nonchalantly plopped Alpha's head on the ground was perfect.
Beta did NOT want his face revealed...and he's going to go off the rails when he finds out about Alpha.
When they showed Magna dragging in, I thought she'd turned. Disappointed to see her alive.


Is next week Michonne's last episode?
I think it might be, but who knows in this universe?

My hope is that the building, on screen, of that relationship between Judith and Daryl (and, by association, RJ), means Judith isn't going anywhere and that the community, lead by Daryl, will take care of her. Now that Negan has taken out Alpha in partnership with Carol, maybe he'll be helping out too. I love the friendship between Negan and Judith.
Caley Fleming was incredible last night. That wide-eyed moment in the room with Earl, with her eyes filled with tears, was really powerful. You forget she's still a little kid until scenes like that and the one later with Daryl when she'd killed WalkerEarl.

Now we know who freed Negan from his cell! I LOVE that Carol was the one who put all of that in motion. It wasn't a big surprise that Negan killed Alpha because that's what happened in the comics, but the involvement of Carol was a huge - and awesome - surprise! She's still my favorite character.

My question is when will Maggie be back? Whiskey Cavalier is done, so we need Lauren back on WD! There's going to be a vacuum in the "powerful female character" department soon, so Maggie needs to fill that.

Drive with Norman Reedus was so fun this week! Norman riding Mario Karts around Tokyo with Ryan Hurst while wearing animal costumes was hilarious! I love how sweet Norman always is with his fans and how he always introduces himself, as if the people he's meeting don't know who he is! Whenever I see Ryan Hurst in something as himself, I'm struck by how sweet he is and how different he is from Beta (IMO, Opie on SOA was sweet too, in spite of his lifestyle). I love him, but I don't think there's ANY chance of Beta NOT ending up dead. Maybe some Whisperers will be integrated into our group, but not Beta.

I was sad to see Thora Birch go, but I'm happy Mary/Gamma got a hero ending. I remember Thora in her (I think) first TV role when she was itty bitty. I hope this show will kickstart her career again. Hopefully, she's gotten away from her toxic father, who's been harming her career for years